Live Footage Collection "AKB48 Group CIRCLE JAM 2023 Online" To Be Streamed on Feb. 4!
2023.01.27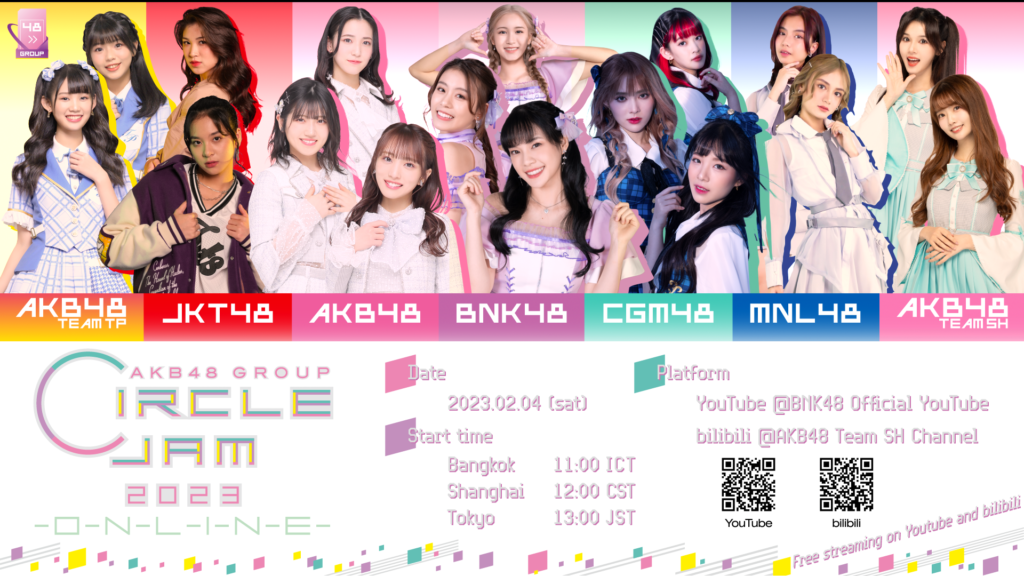 Before the performance to be held in Bangkok on February 4th, AKB48 and its 6 overseas sister groups will come together online.
In addition to their performance, they will be sharing their recent activities, status updates of the members, and much more!
Please enjoy the variety-rich online stage unique to the 48 Group.
AKB48 Group CIRCLE JAM 2023 Online
DATE: Saturday, February 4th, 2023
Start 11:00 ICT, 12:00 CST, 13:00 JST (2 hours)
Streaming platform: *Free
▼Youtube BNK48 Official Chanel @BNK48OfficialYouTube https://www.youtube.com/channel/UClIsaGq7vBEW00ASqwQyzPw
▼bilibili AKB48 Team SH Official Chanel
https://space.bilibili.com/388657573
Performer: AKB48, JKT48, BNK48, MNL48, AKB48 TeamSH, AKB48 TeamTP, CGM48
*AKB48 Group CIRCLE JAM 2023 Official Site
http://akb48circlejam.com/